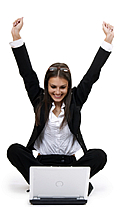 Hello everyone, this is Dustin and I am back to help you with recapturing your computers speed.
Have you experienced a decline in your computers speed or are you un-happy with the speed of your system? At some time or another we all have endured a slow startup, encountered simple tasks that have taken way too long, or suffered with speeds less than what we have come expect from our machines. In an attempt to salvage the fast processing speed that you may once possessed here are some simple methods that will help you regain and maintain speeds that you can appreciate.
Check your security software- Run antivirus, and anti spyware scans!
Manage your startup folder- Eliminate the programs that are not needed!

The start up folder contains files of any programs that you or software manufacturers have designated to start up automatically when your computer is first initializing. They can often drain the performance of your computer and this folder should only include the programs that you will be using immediately or those important to your computers operations.
In order to fine-tune the startup folder you will need to access the system configuration folder. This can be done by expanding the Start menu, Clicking Run and then typing MSCONFIG. (Windows 7 uses the Search application instead of RUN.) Once the Configuration window appears click the Startup tab and carefully select the programs that you are positive that you do not need for startup. Save and exit, restarting your computer is required for any setting to take effect.
Additionally you can also manage their startup programs with the security software previously mentioned.
Clean up your hard drive- Remove the applications you no longer!

If your hard drive space is currently occupied by programs that you don't want or will never use again it's advised that you clear them off your system. Be sure that these are un-needed programs. Any programs that you are unsure about leave in place, for removing certain programs could cause more problems.
To edit your programs enter the Control Panel, open the Add or Remove Programs function (Windows Vista and 7 "Programs and Features"). When the list of program populates select any program that you wish to amend. You can even sort by the last used date or installed date. Follow the uninstall procedures for each individual program and restart your computer if necessary.
Trash any useless files

Delete any redundant or unwanted photos, music, movie, or document files that you are no longer need.
Most of the time this can be done by simply locating the file that you wish to eliminate and dragging it into the trash can. You can also right click and select delete as well as highlighting it and pressing the delete key.
In order for it to be permanently deleted, access or right click the Recycle Bin and execute the permanent delete option.
Buy more space- Get an external hard drive!

External Hard Drives are available and come equipped with various sizes.If your files are important and you would like to keep them rather than deleting them, this is your best bet. Storing surplus files on an external drive provides more space and still allows for easy access.
Other Computer Data Storage include: CDs, DVDs, Flash Drives, and smart cards. Online storage centers like iBackup are also available.
Clear away Temporary Internet Files!

In the "My Computer" window, right click on your hard drive (C:), right click Properties (General Tab), you'll see a link for Disk Cleanup. After a new window opens, you'll see an option to delete Temporary Files, check the box, then click Clean up. This is a good way to clean up any data left over from installations or web browsing that you won't need anymore.
Perform a disk clean up!

The Disk Clean up process will search out any unused or unnecessary files or folders on your PC that are safe to delete.
To perform a disk cleanup access the Start menu, locate the accessories menu in the programs folder, scroll down to system tools and select disk clean up. Or enter cleanmgr in the Run application box located on the Start menu.
Execute a Disk defragment.

Disk Defragmentation searches out similar files on your hard drive in order to consolidate or group the similar files or applications together. Files can often become fragmented and cause a computer to run slower because it has to search harder to locate them.
The Disk Defragmentation program can be found on the same menu as the disk clean up program described in the previous method.
Additional Tips to help increase your computers speed:
Keep windows up-to-date using Windows Automatic Update.
Add additional RAM
Maintain above 15% of free space on your hard drive, again an external hard drive can assist with any overages.
Obtain Registry Scan software
Hopefully by using some of these techniques you will be able to see and enjoy an increase in your computers speed.
Have a Great Day!
Dustin
Providing Tech Support to Businesses in Maryland
Tags: computer, computer running slower, computer speed, hard drive, program