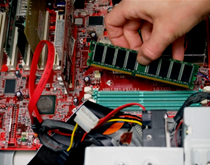 Hey, everyone. It's Josh from Computer Fitness again. We are a Tech Support Company for Small and Medium businesses located in Reisterstown, MD.
So you want to build your own PC, huh? It's an admirable goal to be sure. No more dealing with tech support and no wondering about the quality of the craftsmanship. It will be your machine. That's all well and good, but building a PC isn't something you want to rush into. It takes time to make sure you have all the details sorted out and the right parts required for successful assembly. Here are some suggestions for your journey to building a PC.
1)    Check the dimensions of your parts – It happens all the time. People will buy a lot of parts that look cool, only to realize they don't fit in the case they bought or that their screaming new graphics card takes up 4 spaces.
2)    Double and Triple Check Socket Types – This is an especially important factor. When you purchase your CPU, make sure that it will work with your motherboard. AMD chips won't work with an Intel motherboard, and vice versa.
3)    RAM Speed – RAM comes in many flavors. First of all, make sure you get Desktop sized RAM not notebook RAM. It's an easy mistake to make. Second, make sure that the speed matches your system. There are a variety of speeds out there, so get the right one for your system to ensure optimal performance.
4)    Power Supply – This often gets overlooked. The power supply literally controls how much energy your PC can handle. If you plan on building a gaming PC or a graphic design PC that will utilize powerful hardware, don't skimp on the power supply. Otherwise, you may find yourself unable to boot up the awesome machine you've just built.
-Josh
Computer Fitness
Onsite and Remote Tech Support