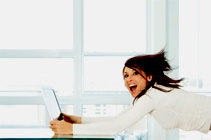 Hey, everyone, Josh from Computer Fitness back with another award-winning article to help you with your computer conundrums.
So your Windows machine is running a little slowly, eh? It happens. Over time, machines just tend to accrue a little wear and tear. Unlike a physical machine, for example, you can't always crack open the case and just know what part to change.  Software is usually at fault for a lot of experience issues, so here are some tips to clean up your PC and get it running like new.
Defragment
We've gone over this before. Defragging takes all the bits and bytes on your machine and rearranges them in the proper order. Fragmentation is the reason a lot of programs will open slowly and why finding files can take a lot of time. Your PC has to gather up all the pieces, rather than just pointing to a single location.
Clear Your Cache
Your cache is a gathering of temporary files used by your PC for various reasons. Over time, they build up and your PC can really slow down as a result. The biggest creator of these files is Internet browsing. By clearing out your cache, you can free up precious resources your machine desperately needs. To do this, open up My Computer. Right-Click on your "C:" and hit properties. Click "Tools" and then select Disk Cleanup.
Turn off Visual Effects
If you aren't hung up on your operating system looking pretty all the time (or don't have the RAM to back it up), you can disable the cool visual effects in Windows. This is far less taxing your system and as a result, programs will run faster in general. To do this, right click on My Computer and hit Properties. In the bottom left corner of the new window, you should see a link that says "Adjust Visual Effects". Now, just select "Adjust for Better Performance". Your machine will process for a minute and then your PC will look reminiscent of Windows 2000, but it will run faster for it.
-Josh